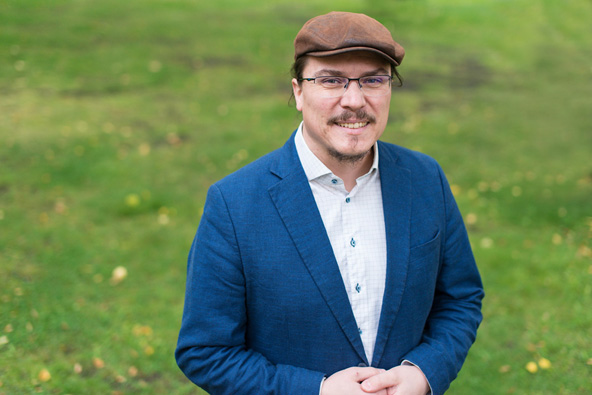 The Finnish Academy of Science and Letters Humanities Award 2021 goes to Assistant Professor Kaius Sinnemäki
The 2021 Humanities Prize of the Finnish Academy of Science and Letters has been awarded to Assistant Professor Kaius Sinnemäki. The prize is awarded annually to an outstanding researcher in the humanities at an early stage in his or her career, who's already achieved international recognition. The prize is worth 15,000 euros and was distributed in 2021 for the 10th time.
The award was presented at the Theme Night of the Finnish Academy of Science and Letters on October 11, 2021, Watch the ceremony here (in Finnish)
"My field of research is general linguistics. In this field, we study human language in general, its properties, evolution, change, and variation. Why human languages ​​are exactly what they are. How, as language users, we form linguistic as well as social meanings through words, grammatical structures, and situational variation. In particular, I study the differences and similarities between the world's languages, and I often make generalizations about languages ​​using materials from dozens or hundreds of languages. " says Sinnemäki.
Kaius Sinnemäki defended his dissertation at the University of Helsinki in 2011. The dissertation Language universals and Linguistic complexity: Three case studies in core argument marking dealt with the complexity of language structure in a wide range of languages.
Sinnemäki is a second-term assistant professor at the University of Helsinki. He is currently leading a research project on Linguistic Adaptation: Typological and Sociolinguistic Perspectives to Language Variation, which received competitive ERC funding from the European Research Council in 2018. The project uses extensive data to study a large number of changes in typologically very different languages ​​and their structural adaptation to different societal environments.
"In an ongoing ERC-funded project, I am examining how the structure of a language adapts to the social structures of the language community, such as community size, multilingualism and social networks", describes Sinnemäki. The research topic of the project was not self-evident: "A conversation with a leading researcher in my field quickly strengthened my self-confidence in themes I had already had time to put in the background in my research. The themes concerned how language may change in different ways in different language communities depending on the structure, size and multilingualism of the communities."
Sinnemäki's research orientation is above all theoretical and methodological. In addition to this, he is also involved in influencing new generations of researchers and other researchers, for example as one of the editors of the four-part work Methods of Language Research I-IV (2020). He also participates in a broader social debate in Finland through his research on the relationship between language, religion, identity and literacy in the book Cabinet Lutheran People: Speeches on Finnish Society (2020).
"It's not just a good luck that I've gotten ahead in my career. Coincidence, of course, has a role to play, especially when applying for highly competitive funding. But such a small field of research requires a lot of work, commitment and also risk taking. To counterbalance these, it has been necessary to take care of one's own coping and the well-being of the family, especially by avoiding constantly working overtime. Scholars are often myth-breakers: it has its own meaning if it can convincingly find something that breaks old notions. The work is challenging and inspiring, especially making new and unexpected discoveries. Although learning something new is sometimes difficult, it usually brings a lot of joy in the end. "
In addition to the Nordic countries and Europe, Sinnemäki has a global co-operation network in the Americas, Asia and Australia. This is also reflected in the composition of his group.
"My dream is the success and work of my employees and students in our field from a wide variety of places, both inside and outside the university. The immediate dream of my own career is to strengthen and diversify my own research team and, in general, to continue its work. "
Sinnemäki sees general linguistics becoming increasingly multidisciplinary and digital. According to him, co-operation both within the field and with researchers in various fields will also increase and diversify. "The further my own research has progressed, the more I have coded myself, for example, and also taught computational methods to students and other researchers", he concludes.
KAIUS SINNEMÄKI
Assistant Professor, University of Helsinki
Researcher in general linguistics
Doctor of Philosophy, University of Helsinki 2011
SUOMALAISEN TIEDEAKATEMIAN HUMANISTIPALKINTO
Granted to researcher in humanities in the early stages of his or her career, who's already achieved international recognition
Granted since 2011
The Prize is 15,000€
More info:
Suomalainen Tiedeakatemia
Secretary General Pekka Aula
This email address is being protected from spambots. You need JavaScript enabled to view it., 040 7030 952
Awarded
Assistant professor Kaius Sinnemäki
This email address is being protected from spambots. You need JavaScript enabled to view it., 050 4482 065
More info about the Humanist Prize here (Finnish)
Photo: Mika Federley