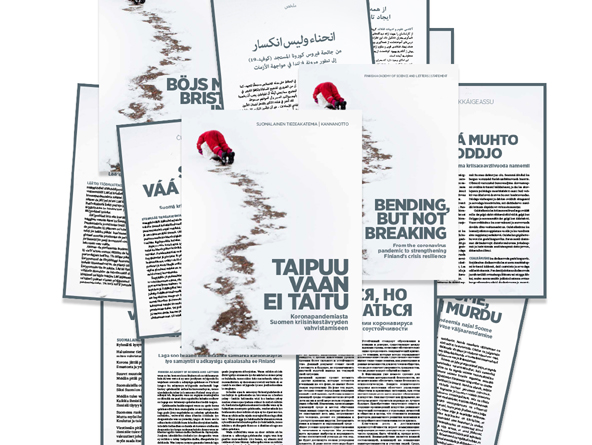 Bending, but not breaking - in 12 languages
Last year the Finnish Academy of Science and Letters convened a multidisciplinary group of experts to present their views on ways of further improving Finland's long-term crisis resilience. On the bases of the group's work, the statement 'Bending, but not breaking' was formed.
The statement looks further into the future. It invites us to discuss ways of improving crisis resilience at the individual, community and societal levels. There are many types of crises, and they cannot be overcome by following a single model. The most sustainable solution is a society that is able to adapt and strengthen its creative potential through the joint efforts of scientists, government and businesses.
The statement is an invitation to join the discussion, based on the work done by the group and representing an independent scientific perspective. The statement has been published in English, Finnish and Swedish. A summary of the statement is also available in Arabic, Easy Finnish, English, Estonian, Farsi, Finnish, Inari Sami, Kurdish (Kurmanji and Sorani), Northern Sami, Russian, Skolt Sami, Somalia and Swedish.
The statement:
The summary: